East Boldre: A New Forest Squatters Settlement 1700 - 1900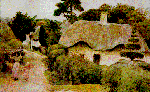 Jude James 1994
The New Forest Research and Publications Trust

in association with The New Forest Section, Hampshire Field Club & Archaeological Society
Copyright Jude James 1994
Published 1994 by
The New Forest Research and Publications Trust
(Charity No. 1039076) in association with
The New Forest Section of the Hampshire Field Club and Archaeological Society
All rights reserved. No part of this publication may be reproduced, in any form
or by any means, without permission from the publishers.

ISBN 0 9523888 0 4
Typesetting by Wessex Educational Services
Printed by:
Ensign Press, 34 city industrial Park, southern Road, Southampton S015 1HA
INTRODUCTION
As East Boldre only became a parish in 1839 the records of its early history are inextricably bound up with those of the parent parish of Boldre so to unravel the story of the village and discover its origins presents a problem for any investigator. Although it has no independently recorded existence before 1839 it is nevertheless quite evident that the settlement is much older. It lay along the extreme eastern boundary of the ancient parish of Boldre, abutting Beaulieu parish (see map in centre pages).
East Boldre does not conform in any way to the popular view of the idyllic English village nestling in a well-watered valley with a church, manor house and pub yet it is very charmingly situated on the forest margin and possesses an atmosphere and character that make it a village of much interest. It has a real sense of being rural with still many delightful cottages tucked in between thorn hedges and shrubbery and here and there a small holding surrounded by grazing cattle and ponies
The village is roughly two miles in length and never more than about a quarter of a mile in width. The eastern boundary is defined by a now much eroded earthen bank and ditch upon which grow a number of fine old oaks. The western boundary is effectively the north-south road running along the wide expanse of open heathland with unbroken vistas to the west. Its quality of length and exposure to the west arouses a sense of curiosity as to the nature of the settlement: any visitor with a sense of England's historic landscapes must at once be intrigued by this forest village.
THE SETTLEMENT
The name East Boldre only dates from the time it was created from its parent parish, prior to that the straggling hamlet was known as Beaulieu Rails. This earlier name reflected the fact that the settlement had grown up along the wooden railings surmounting the earthen bank defining the western boundary of the Manor and parish of Beaulieu. This bank most probably had its origin in the early thirteenth century when King John granted to the Cistercian monks about 10,000 acres of his New Forest situated mainly in the valley of the Beaulieu River and the immediately adjoining heaths. After the estate of the abbey of Beaulieu was sold following its dissolution in 1538 the bank made by the monks continued to serve as the physical boundary of the manor which was coterminous with the parish of Beaulieu1.
It is evident that the settlement which was to become East Boldre grew along the Beaulieu Manor bank but situated entirely on forest commonland. Until the mid-twentieth century there were no dwellings immediately to the east of the manor bank in the Beaulieu parish.
The village, situated on plateau gravels overlying a bed of Oligocene clays, rises front about 50 feet above sea level at its southern end (East End) to around 130 feet in the north, beyond Hatchet Pond. The nature of the underlying soils means that the land is reasonably well-drained but with ample water lying on the clays just a few feet below the surface. This fact has enabled a decent and regular water supply to be obtained from wells which are shown in large numbers on the earliest large scale Ordnance Survey maps (surveyed in 1867). The soils near the surface appear mainly as clayey loams but varying from a sandy texture in some parts to heavy tilth in others. In general the soils could he described as relatively fertile especially when improved with marl and manure as appropriate to the local conditions.
East Boldre is excessively exposed in all directions but more especially to the west and south where there is only a large expanse of almost unbroken open heathland. To the east of the settlement there is a narrow plateau of agricultural land which drops away into the valley of the Beaulieu River giving exposure to the east.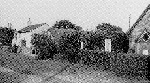 A view of East End
1963 (photo. Allen White)
The first question that needs to he addressed, given the not especially favoured situation,
is what induced people to settle? East Boldre is not situated on an important
communication route, as is so often the case with linear villages, it contains no valuable mineral deposits beneath its soil and the fertility of the land, though adequate, is not peculiarly attractive. According to the figures given in the Tithe Schedule of 1851 the village occupied a total area of 290 acres, about equivalent to two small/medium sized farms in the southern New Forest area.
The most likely explanation for the founding and subsequent growth of East Boldre lies in its proximity to Beaulieu which was an estate and village that could provide many employment opportunities for people. An additional incentive to settlement here was that it was Crown commonland unused for any tangible purpose and, apparently, wide open for exploitation by those who were prepared to take advantage of it.
The Rev. William Gilpin, vicar of Boldre parish from 1777 till his death in 1804 described the Beaulieu Rails settlement in the following terms:
Where the manor of Beaulieu-abbey is railed from the forest, a large settlement of this kind runs in scattered cottages, at least a mile along the rails. This nest of encroaches the late duke of Bedford, when lord-warden of the forest, resolved to root out. But he met with such sturdy, and determined opposition from the foresters of the hamlet, who amounted to more than 200 men, that he was obliged to desist whether he took improper measures, as he was a man of violent temper, - or whether no measures, which he could have taken would have been effectual in repressing so inveterate an evil. - And yet in some circumstances, these little tenements (incroachments as they are, and often the nurseries of idleness) give pleasure to a benevolent breast. Where we see them, as we sometimes do, the habitations of innocence and industry, and the means of providing for a large family with ease, and comfort, we are pleased at the idea of so much utility and happiness, arising from a petty trespass on a waste, which cannot in itself be considered an injury2.
The view of the Keeper of Lady Cross Walk, in which the area of East Boldre fell, was not so sanguine and lie complained to the parish officers about the number of encroachments. The vestry minutes duly recorded his complaint:
4 July, 1797. At the request of Mr W" Piper, Keeper of Lady Cross walk, that a number of encroachments being made in the forest within the Parish by the erection of mud cottages and of his inability to suppress them without the assistance of the parish, it was resolved that a sufficiency of men he hired to aid in throwing out the encroachments, at the expense of the poor rate3.
No doubt anyone who erected a habitation in this area would feel that there was no land to buy, no rents to pay and no problems with landlords. These so called 'squatter' settlements on the forest commonland were a common feature, so common in fact that the government in the late eighteenth century authorised a complete survey of these encroachments about which more will be said later. Certainly, the idea that these squatter settlements were established near to a place were work was available is borne out by comments made by the Rev. Henry Comyn, curate of Boldre from 1812 to 1817. He stated, in a letter to the Duchess of Buccleuch, then owner of the Beaulieu manor estate, that the village of East Boldre had grown up in response to the employment needs of the ship building industry at Bucklers Hard which had flourished from about 1745 and was to continue till about 18184. Other employment, albeit casual and seasonal, was provided by farms, rope making in Beaulieu village, brickmaking at Pitts Deep and Baileys Hard and in the iron works at Sowley. Now it may well be asked if labour was required on the Beaulieu estate why was it that housing provision was not made there for the workforce'? The reasons for this have to be sought in the nature of society in tile eighteenth and early nineteenth centuries. During that period each parish was responsible for the maintenance and care of its poor parishioners. A rate for alleviating the sufferings of the poor was levied on landowners and those occupying properties rented at [sterling]10 or above per annum. It will be obvious that the more poor people there were living in a parish the higher would be the rate levied to relieve them. Therefore it was of real pecuniary advantage to the better off members of any community to have as few poor people within their jurisdiction as possible - certainly they would not wish to encourage additional settlement. It is then evident that to have the advantages of a working population outside the parish but physically close to it was likely to be of considerable economic benefit. In plain terms this meant that employers on tile Beaulieu estate had access to a supply of labour for which they had no responsibility other than paying wages when they were in work. Each parish had its own burden of paupers and in this respect Beaulieu was no exception. At least the inhabitants of Beaulieu had not sunk to the level of the 'Gentlemen of late years [who have taken up an Humour of Destroying their tenements and Cottages.... because they harbour the Poor that are a Charge to the Parish'5. Yet in this context it is interesting to record that members of Boldre Vestry, concerned with administering the Poor Law in their parish, were in 1811 complaining of 'intrusions into this parish by the parishioners of Beaulieu by building cottages. - .' Of course, the Boldre parishioners did not wish to see the population of potential or even occasional paupers increase to the detriment of their Poor Rate costs but, unlike Beaulieu, they had no authority to compel the squatters to leave the crown owned forest land even though it fell within the administrative jurisdiction of their parish.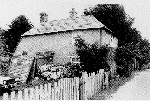 A cob cottage at Furzey Lodge in the northern part of Beaulieu Rails. At some date after its construction the thatched roof was replaced by Welsh slate (photo. the author)
It would appear that not all the encroachments were made by landless labourers for it seems likely that some cottages had been erected on tiny encroached plots by Beaulieu farmers in order to provide cheap housing and from which, it seems, they also gained a small rent. In 1817 the curate of Boldre, the Rev. Henry Comyn, made three booklets listing the inhabitants of Beaulieu Rails with details on many aspects of their lives including the rents paid for their cottages. In his record we find several labourers paying rent to Beaulieu farmers, for example Peter Abbot rented a cottage just over the manor bank, near the northern end of the present Sweynes Lease, for [sterling]2 10s. a year from 'Biddlecombe' of Beaulieu Manor and, at the other end of Beaulieu Rails, James Hendy paid [sterling]3 a year for the rent of his cottage from the same farmer. And in a telling entry we find Thomas White living rent free as he is employed as a carter by Farmer Biddlecombe. This farmer is probably Benjamin Biddlecombe, tenant farmer of Newlands Farm, which abuts the Beaulieu Rails settlement. Another case is recorded where James Thomas paid an annual rent of [sterling]2 12s. to 'Perkins of Beaulieu' for his cottage. 6

Cottage owned in 1817 by Michael Phillips acid rented to William Solomon for [sterling]2 12s.per annum. (photo.Allen White)
The arrangements of ownership and occupation are further confused by the fact that those living on seemingly encroached lands are actually renting cottages on other encroached pieces to tenants. For example we find a certain James Philips renting two cottages to tenants on 'forest' land. It is, perhaps, difficult to understand the origin of this arrangement when it would appear that all the cottages were sited on land encroached from the crown but a clue may lie in the advice, formulated no doubt on earlier experience, given to farmers by the Board of Agriculture in 1804 in which they recommend that farmers erect cottages of local materials with a 'brown paper roof, well pitched', because 'a ready supply of labourers is not the only advantage a farmer may reap from cottages. He will have, at an easy rate, all the manure they can make....'7. And Percival Lewis records that whilst it was recognized the majority of encroachments were made by 'the lower order of persons' that, nevertheless, a few had been made 'by the proprietors of neighbouring estates' and added then to their own property.8
The proximity of the squatters' cottages to Beaulieu is nowhere better demonstrated than at the eastern side of Massey's Lane (formerly Factory Lane) where a thatched roofed, cob cottage is actually partially built in the ditch of the Beaulieu Manor bank. In 1801 this belonged to Thomas Cruit where it's described as 'house and land..,. two feet of the house on the forest side, the rest of the house in the ditch of Bewley Manor, erected one year 9.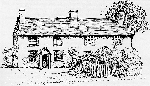 A semi-detached pair of cob cottages with slate roofs erected early in the nineteenth century. The garden space in front of the cottage on the left has been resumed to the forget while the cottage on the tight retains its garden, probably as a result of the commissioners' decision on encroachment. (sketch by author)
The problem created by the settlement along Beaulieu Rails led to a dispute between the parishes of Boldre and Beaulieu concerns the legal responsibility each had towards these border dwellers. It was not possible to arrive at a satisfactory and amicable solution so the two parishes were obliged to seek redress in law. The crux of the matter was that the inhabitants of Beaulieu Rails looked to Beaulieu for employment and social contact and it is, therefore, logical that they should expect help from Beaulieu parish in times of hardship. The Beaulieu rate-payers, however, must have been unhappy about this anomalous group of dwellings clustered along their parish boundary bank yet were outside the parish and felt that they were not legally responsible.
In March 1801 a young woman called Zipporah Fielder had been removed from Beaulieu Rails to Beaulieu as, presumably, she had become a charge to the Boldre poor rate. Subsequent evidence shows that Zipporah must have been resident in that borderland between the two parishes. The Boldre parish officers, with some justice, considered Beaulieu Rails to be the responsibility of Beaulieu whilst the Beaulieu authorities considered that as it lay geographically wholly within the parish of Boldre it was their responsibility. The court case sparked by this removal was to cost both parishes a great deal of money in legal expenses.
For example we find in the Boldre Poor Law Account Book for 1801-02 the following amongst the relevant entries:
20th June


By expenses in going to inspect the Bounds

of the Parish for self & others


17s. Od

2nd July:

By pd Case & Batt for surveying the parish

on the Beaulieu side


4s. 9d.



By pd Jas. Wooldridge's expenses to

Winchester the Trial between this parish and

Beaulieu




14s. 6d.



By pd Fanner Taylor's expenses -ditto

[sterling]1 9s. 6d.



By sundry other expenses on the above account

[sterling]13 2s. 9d.



By paid Case and Batt for planning the Houses

and banks at Beaulieu Rails


[sterling]2 2s. Od.

1st April: [18021

By cart & horse to carry two witnesses about

the disputed bounds at Beaulieu Rails

to Lymington


8s. Od.

The Farmer Taylor referred to was then living at Funtley near Fareham, hence the expense, but his evidence was much in favour of Boldre and the Beaulieu records acknowledge this by recording that 'his evidence was decidedly against the Appellants' 10.
Sir Harry Neale and other gentlemen of Boldre in January, 1802 commissioned the Rev. William Gilpin to write a letter to Beaulieu parish with a view to resolving the dispute I otherwise than by the present tedious expensive and disagreeable' recourse to law. Beaulieu officers at first were not sympathetic and insisted on pressing for a legal settlement. But the seeds of doubt had been sown and eventually they were persuaded to go to arbitration and a Mr Henry Dampier was appointed as arbiter. The final outcome is recorded:
Whereas disputes have arisen between the Parishes of Boldre and Beaulieu as to the boundary line between the two Parishes, and several expensive litigations have taken place without ascertaining and fixing the same. For settling such disputes and preventing others in the future, it is resolved to leave the seine to the determination upon by Henry Dampier Esquire Barrister at Law to submit to his decision there so as the same be made in writing and ready to be delivered to the Parties or such of them as shall require the seine on or before the Sixth day of November next issuing the date hereof - And it is further agreed that the Officers of this Parish and the Officers of the Parish of Boldre on the Thursday fortnight after the date of the said award do meet and perambulate the Bounds of the respective Parishes according to the line to be laid down by the said Henry Dampier. And that all the perambulations shall be made on Ascension Day in each and every year according to the said line of Boundary, so laid down. Dated this 2nd day of September 1802.
It was signed by John Warner and Richard Rogers, churchwardens; William Lejeune, William Rogers and John Biel, overseers of the poor and 32 other Beaulieu residents 11.
The actual outcome was that for the 50 properties concerned in the dispute Beaulieu was given responsibility for 1312. and Boldre for the remaining 37. It is, therefore, of some interest to record that as late as 4 July, 1811 overseers and guardians of Boldre parish 11 found it necessary to pass the following resolution:
Resolved - That in consequence of the numerous intrusions into this Parish by the parishioners of Beaulieu by building cottages no permanent allowance shall in future be made to any person under these circumstances but that every applicant shall be indiscriminately ordered into the work]House 13.
However, it does appear that Beaulieu was respecting its responsibility for we find in 1817 that their Poor Law overseers are granting assistance to those East Boldre residents who had fallen into distress for Comyn notes 'Mary Gregory, a very old widow, is receiving 3s. a week from Beaulieu Parish'14. and 'Miller Kearley' who supplied flour for the poor in Beaulieu Rails was paid his bill for [sterling]8 13s. in full by Beaulieu parish. 15.
Amongst the many witnesses who appeared in defence of Boldre's claim were John Hobbs, John Kitcher, Thomas Chace and William Harvey. It was this last man, then aged 71 years, who gave evidence to the New Forest Commissioners in 1801 about encroachments made at Beaulieu Rails on the Crown commonland.
The commission was appointed by act of parliament in the year 1799-1800 16. to look into encroachments on the New Forest and was given the authority 'to enquire of purprestures, encroachments and trespasses on the soil of His Majesty within the boundaries of the said forest' and to examine all claims and titles to any lands, tenements or hereditaments. The evidence presented for Beaulieu Rails provides a valuable picture of the settlement at the turn of the nineteenth century and is supplemented by details from the boundary dispute with Beaulieu. The act also authorised that land which had been enclosed for fifteen years or more and had been used without interruption might be allowed, at the commissioners' discretion, and that the crown could then grant a lease for such encroahed land. The commissions enquiries took the form of seeking sworn evidence from the groomkeeper of the Walk in which the alleged encroachments were situated and supplemented this with evidence from an old inhabitant resident in the disputed settlement.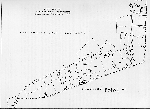 Beaulieu Manor and Parish

In the case of Beaulieu Rails, which fell within Lady Cross Walk, the groomkeeper was

Richard Primmer and the inhabitant selected was William Harvey.

A few examples 17. will explain the procedure:

No. 462. - William Cruit, house and garden Beck Heath Gate. Wm Harvey (duly sworn), house and garden, altogether 10 lugs, taken iii between 30 and 40 years; never thrown out

encroachment Lease recommended.

encroachment Lease recommended.

No. 465(B) - James Collis, house and garden, and 5 or 6 acres of land at Burley Rails in the forest. Wm Harvey (duly sworn), I know it; the land enclosed upwards of 50 years; house built adjoining an old house; nothing added.

encroachment Lease recommended.

No. 483. - John Phillips, house and garden. Willm Harvey (duly sworn), before my time.

discharged.

No. 485. - John Rixon, house and garden, Bewley Rails, Richd Primmer (duly sworn), two lugs, within a year and a half. Wm Harvey (duly sworn), land on which house stands taken in before my time, and house since built on it.

encroachment, 2 lugs.

The outcome of all these deliberations was that some pieces of land could not he shown to belong to the crown. They had either been encroached so long ago as to he beyond human memory or they may have been legitimately granted by the crown at some remote time. It would not be practical to pursue its claim to these lands because the search for documentary proof in such cases would take an inordinate amount of time and might, iii any case, never succeed. The result iii these cases was that the occupiers of such lands found their case discharged so they became the freehold owners (see No. 483 quoted above). Iii other cases where the land could be shown to be an encroahment the commissioners could either return tile land to the New Forest or they could grant a crown lease. In all cases where there was a cottage or tenenient erected on the disputed piece they recommended a lease be granted. Iii most cases where the disputed encroachment was not built on then tile land would revert to the forest. But in all cases discretion was exercised.

The freedom of tile freeholders is abundantly revealed iii their ability to sell their properties. The following advertisement provides a good example:

BEAULIEU RAILS, NEW FOREST

TO he SOLD by PRIVATE CONTRACT. - All that desirable FREEHOLD PROPERTY of the late Michael Phillips, deceased, consisting of a good substantial DWELLING HOUSE, with two barns, stables, and all necessary outbuildings, in good repair, and about 16 perches [sic, acres] of Arable Land, in a high state of cultivation, tithe free, including three Labourer's Cottages thereon 18.

The cottages were mostly built of cob, a clayey-loam admixed with chopped straw or heather19. The foundations varied, some cottages were built directly on the cleared earth, others were given a low plinth of either heathstone or brick, depending on availability. A few, it would seem, were provided with timber baulks for foundations but as these would rot they caused subsidence to the mass cob walls so cannot have been much favoured. The building of these cottages appears to have been a traditional skill in which a number of inhabitants would join, so professional builders were not needed.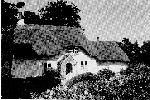 Tinsley's Cottage", a typical small cob cottage, with later brick facings to the central part. Occupied by William and Anne Tinsley in the early nineteenth century. (Photo. by author 1980)
The structures are basically simple being of rectangular plan with a central door and small window openings on either side. Internal partitions were used to divide rooms. Many of the simpler cottages contained only a single hearth but some, slightly more sophisticated, would have two hearths fitted at either end. On present evidence it would seem that most of the cottages had a first floor either extending throughout the building or occupying a portion. These upper rooms were contained largely within the pitch of the roof. Joists to support the upper floor were imbedded in the cob walls, usually projecting so as to be just visible externally. Later many of the cottages were provided with lean-to extensions.
The roofs were of thatch, usually straw, but sometimes of heather harvested from the adjoining Beaulieu Heath.
The original floors were likely to have been just compacted earth covered with straw or heather but later these would be replaced with brick and much more rarely stone flags. A few were fitted with wooden plank floors resting on single bricks, but without ventilation were much subject to rot.
Gilpin 20. provides a contemporary view:
.... the forest is continually preyed upon by the encroachments of inferior people. There are multitudes of trespassers on every side of it, who build their little huts, and enclose their gardens and patches of ground, without leave or ceremony of any kind. The underkeepers, who have constant orders to destroy all these inclosures, now and then assert the rights of the forest, by throwing down a fence; but it requires a legal process to throw down a house, of which possession has been taken. The trespasser therefore here, as on other wastes, is careful to rear his cottage, and get into as quickly as possible. I have known all the materials of one of these Habitations brought together and the house built - covered in - the goods removed - a fire kindled and the family in possession, during the course of a moon-light night.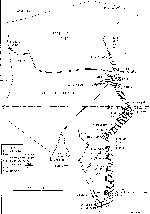 East Boldre and Beaulieru Manor and Parish Boundary
There is a long-established and deeply rooted tradition that states that if a trespasser or squatter erects a dwelling in a single night and has fire kindled and is shown to be in possession by morning he is the freehold owner. This is not strictly true in law. The point is, as Gilpin remarks, that 'a legal process' is required to dispossess a person inhabiting a house therefore that person is in possession defacto 21.
SOCIAL CONDITIONS
One consequence of life for the squatters living in East Boldre was that they were free from manorial control and relatively free from parochial control. It is, perhaps, not surprising therefore to hear an observer commenting in 1845 that,
... across the heath, where the forest joins the manor of Beaulieu, is the hamlet of Beaulieu Rails, inhabited by cottagers. Living on the outskirts of the forest, on a kind of debatable land, their habits partake much of the lawless character of borderers. They ostensibly gain their livelihood by agriculture, but in reality the greater part of them live by poaching on the deer and game of the forest, or by smuggling, for which the contiguity of the sea, and the wild nature of the country around, offer great facilities.
Iii timber stealing, also, they are extremely expert, so that 'in a night's time, they have cut down and carried off, and safely lodged in the hands of a receiver, one of the largest oaks in the forest'.... From their earliest youth they learn to set traps and gin for hares and pheasants; to ensnare deer by hanging hooks, baited with apples, from the boughs of trees; and, (as they become bolder proficients) to watch the herd with firearms, and single out a fat buck...'22.
It is true that a number of crimes related to the offences indicated in the above account are registered in the Quarter Session records. William Rann, aged 40, was committed on 4 February, 1'817 by George Eyre and Charles Mitchell, magistrates, to 12 months imprisonment 'for unlawfully cutting and carrying away an oak tree in the New Forest, the property of his Majesty' and in April of the following year Henry Pickett was given six months imprisonment 'for unlawfully and wilfully taking, killing and carrying away, in and from Lady Cross Walk, in the New Forest, three fallow deer...'23.
Again it is Gilpin who provides a perceptive and valuable contemporary insight to the
social conditions:
The advantages which the borders on forests enjoy, such as rearing cattle and hogs, obtaining fuel at an easy rate, and procuring little patches of land for the trouble of enclosing it, would add much, one should imagine, to the comfort of their lives; but in fact it is otherwise. These advantages procure them not half the enjoyments of common day-labourers. In general, they are an indolent race; poor and wretched in the extreme. Instead of having regular returns of a week's labour to subsist on, too many of them depend on the precarious supply of forest pilfer. Their ostensible business is to commonly cut furze, and carry it to the neighbouring brick kilns; for which purpose they keep a team of two or three forest horses; while their collateral support is deer stealing, poaching, or purloining timber 24.
The late Captain Widnell in his book The Beaulieu Record described the East Boldre folk as 'sturdy, independent and stubborn'25 and their fiercely independent nature caused them to object to paying the poor rate to Boldre parish as the law required. At the Boldre parish meeting on 7 May 1812 an anonymous paper was shown which purported to be the joint resolution of the people of Beaulieu Rails to resist the collection of rates and taxes in that district and in case of any such demand upon them to set fire to the buildings of any officer employed, with a personal threat against William Chandler before whose house it was affixed to a tree. That a reward of [sterling]50 be offered for the discovery and conviction of the writer of the said paper and of the person who affixed to the tree. And that 100 handbills be printed and distributed wherever they best lead to an enquiry26.
RELIGION AND THE CHURCH
Another manifestation of their independence was a reluctance to join the flock of Anglicans that made up the Established church. An attachment to religious dissent would be expected and we find a certificate for a meeting house being granted to John Cruitt of Sheepwash Hill, East End, on 27 August, 1802, of which denomination is not recorded. However, that was sited at the extreme southern end of Beaulieu Rails so one for the northern end would be expected acid indeed on 26 October, 1810 a 'House iii Beaulieu Rails' is given a certificate. There can little doubt that this was the Baptist Chapel, sited at first in Massey (Factory) Lane and subsequently in Chapel Lane. A further chapel, described as a 'Protestant Dissenters' Meeting House' was registered in February, 1812 27.
In the month of March 1818 the Rev. William Giles, pastor of the Lymington Baptist Church, with Benjamin Sheppard and D. Dore, paid a visit to their friends at Beaulieu Rails, after repeated invitations from the inhabitants there. Mr Giles preached in the house of Isaac Tinsley, described as 'a very pious man' oil the conversion of Lydia by St Paul 28 'which proved so pleasing and Edifying that he was requested to come again the following week'. Tinsley's house soon proved too small for a growing congregation and Michael Phillips loaned his barn for the services but as he would want it during harvest the congregation had to seek at such time an alternative meeting place. This undoubtedly provided the impetus for the first purpose-built chapel.
It is evident that the Baptists soon became the dominant religious force and we find
many applying for membership in the earliest surviving Baptist Minute Book, 1829 29.
Feby 27 At a church meeting Lydia Miller was proposed as a candidate for church fellowship.
March 15 Lord's day. William Stickling [sic] was proposed a candidate for Church fellowship.
March 22 Lord's day. at a Church meeting Elizabeth Rixon, Lydia Miller, John Rixon, Senr. William Stickling, George House and George Gregory related their experience and it was agreed that after their baptism they should be received as Church members. Charity West was proposed as a candidate for Church fellowship.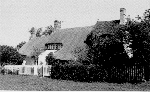 "Tinsley's ", the cottage at Beaulieu Rails occupied by George Miller, a Baptist, and probably the first meeting place when the Rev. William Giles came to deliver his first sermon. (photo. by the author 1980)
The Rev. Henry Comyn in his notebooks often records those who dissent from the Anglican church and so concerned was he at the growth of dissent, most particularly of the Baptists, that he frequently preached sermons critical of them. In 1817, the year he gave up his curacy in Boldre, he published these as Substance of Part of the Lectures delivered in the United Parishes of Boldre and Brockenhurst. In this work he notes, 'it has been my lot to find [leading errors] so perniciously and assiduously attempted to be spread among you'30.
The support for dissent is well revealed in the official religious census of Sunday, 30 March 1851. At the East Boldre parish church of St Paul 81 attended morning service, and 128 in the afternoon. At the Baptist Chapel 221 attended in the morning and 237 ill the afternoon, in addition the evening service here drew a congregation of 166. The Independent Chapel, at East End, had 115 to morning service, 157 in the afternoon and no fewer than 80 attending evening worship. Although it is not possible to adduce total numbers from these figures as some members of the congregations most likely attended more than one service, it is, nevertheless, possible to see that the proportion of dissenters to Church of England members must have been of the order of about three to one. This view is substantiated by the comments the Baptist Minster appended to the census return in which he notes that 'The Congregation on March 30 was below average partly on account of many being ill. Neither does any one Congregation give a fair average of attendance as in many families some attend one part of the day and others another. There are about 250 adult persons who make this Chapel their regular place of worship, which with the children on the Sunday School Book make 450'.31.
The first Baptist Chapel, founded in 1810, was too small for the growing congregation so it was enlarged in 1818 and completely rebuilt in 1844 as recorded oil a plaque attached to the front of tile chapel. At first it was served successively by the Lymington Baptist ministers. The Rev. John Bartlett Burt appears to have been the first resident minister serving from July 1846 until hiss death in 1886. He was succeeded by the Rev. Henry New who was appointed in 1887 and continued in office until, at least, 1894. But it is evident from the birth and burial registers that other ministers served on odd occasions, for example, the Rev. William R. Bennett is first recorded in 1843 but continues to serve from time to time until 1864 overlapping with (lie resident minister.
The Baptists had their own burial ground around the chapel in which there was a single altar tomb covering the grave of Benjamin iddlecombe, died 19 May 1870, aged 46 years, and his wife, Ann, died 8 September 1897, aged 71. The other graves were memorialised by the more usual headstones32.
The Methodists are represented by a now defunct chapel situated in Massey (Factory) Lane. The small graveyard which still survives nearby is, however, for Baptists who separated from the main group. Amongst the eight graves with commemorative stones there is a finely wrought box tomb in the centre covering the graves of Charles Kearley, died 27 May, 1842 and Ann, his wife, died 10 March, 1830 and also of Mary the wife of John Bartlett Burt, the Baptist minister. There was a Primitive Methodist chapel at East End which is recorded on the 1867 Ordnance Survey map but details of its history seem not to have survived.
Also built at East End in 1808 was the Independent Chapel, later to become Congregational and, subsequently, United Reformed Church. The small brick building with its tiled roof, very much in the rural idiom, still survives. This was served in the mid-nineteenth century by the Rev. David Lloyd, minister of the Lymington Independent Chapel33.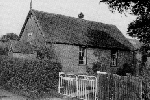 The East End Congregational (now URC) chapel. (photo. Allen White 1963)
Oil becoming a separate ecclesiastical parish East Boldre was provided with a church which was partly funded by public subscribers including Lord Montagu of Beaulieu, Sir Harry Neale and Edward Hicks of Lymington. The church is a plain brick fabric with narrow lancet windows in the nave and a small bell turret over the porch at the west end. It was designed by John Tulloch, a Wimborne architect, and cost altogether [sterling]900 34. of this sum [sterling]200 was from a grant by the Incorporated Society for Church
Building (a body incorporated by the church Building Act of 1828) and [sterling]600 from the Diocesan Society. As originally built it contained 337 sittings of which 250 were free. In 1891 restoration work was undertaken and a separate chancel was added at a total cost of [sterling]620. East Boldre was designated a perpetual curacy endowed by the Ecclesiastical Commissioners as a living in the gift of the Bishops of Winchester and valued at [sterling]72 per annum. It later became a vicarage with a net yearly value by the 1930s of [sterling]320 hilt remaining in the gift of the diocesan bishop. The first vicar was the Rev. Joseph W. Gunning. The registers of baptisms, marriages and burials all commence in the year 1840.
The Vicarage, or as it was originally called the Parsonage, was built in 1850 at a total cost of [sterling]860, Queen Anne's Bounty provided [sterling]400 and the remainder was raised by public subscription. The land upon which the house stood, with an additional 11/2 acres of grounds, was a gift of the crown.
It is not without some interest to note the attitude of the Rev. J.W. Gunning to the natural proclivities of the donkeys on the heath around the vicarage. The following letter, dated 13 May, 1889 and addressed to the New Forest verderers, explains much about late Victorian prudery.
My Dear Sir,
I see no abatement of the nuisance caused by male donkeys being at large on the Forest. Yesterday we were shamefully annoyed by these animals on our way to church. No lady can visit my house at this time of year without being shocked and annoyed by these creatures. Only a short time ago a woman driving one of these animals was run away with in her cart, the cart was upset and she might have been killed. The brute saw others and wished to join them. My daughter cannot walk out or even look out of the window without being annoyed by these disgusting sights; for the owners always keep them near the cottages in case they should stray away. If something is not done to stop this nuisance I must leave the place for no lady can stay here, and it is impossible to teach children decency or morality with such sights constantly before their eyes. I could tell you things which would make you shudder but of course I cannot speak of these things in a letter. I fear the Agisters like to keep in with people and often connive at their practices in case of giving offence. At any rate what ever is the cause my house is surrounded by these animals. They do not keep them for work and are unable to feed them so a miserable offspring is the result.
Yours truly,
J.W. Gunning.
At first the verderers gave in to this letter and ordered the removal of all male donkeys
over two years old. But the response, which might well have been expected, is well
described by Anthony Pasmore 35.
... a letter from Colonel Martin Powell who wrote that: 'From time immemorial donkey-breeding in the Forest has been a source of profit to the very small commoner who is unable to buy or keep a pony. I feel convinced that the reverend gentleman (in consequence of whose complaint the male donkeys were removed) had no idea of the injury he was inflicting upon his poor neighbours'. The [Verderers' Court decided the wrath of the church was preferable to that of the electorate, and lifted the ban subject to conditions.
SCHOOLS AND SCHOOLING
The Rev. William Gilpin built the first school for the parish, at Pilley, in 1791 and endowed it with the proceeds from the sale of his watercolour paintings. It cannot now he ascertained whether any children from East Boldre attended this school. However Beaulieu Rails did have its own schools and although the details are sparse some idea of them call be gained from Comyn's notebooks 36.
One cottage appears to have been what Comyn describes as 'a Subscription school' run I on Dr Bell's plan'. This was a method of monotorial teaching by rote that had been invented by the Rev. Andrew Bell of Swanage. In 1817 the master was John Scorey who lived at Bull Hill a little more than a mile to the west. No further information about this school has come to light and it can only be conjectured that the children attending, who were likely to have been few in number, paid a small subscription, perhaps a half-penny or a penny a week. It can hardly have provided a living for Mr Scorey.
Another school, equally hazy in its history, was described by Comyn as 'Sir Harry Neale's School' and was sited quite near Cripplegate. Its name strongly suggests it was endowed by Sir Harry Neale of Walhampton though founded by the Rev. Henry Comyn. It seems to have been for girls only. As the character of the Beaulieu Rails inhabitants, as already described, was somewhat independent, not to say lawless, a clergyman such as Comyn may have felt a small school would perhaps mitigate the undesirable qualities by inculcating a degree of learning and some discipline and respect for authority that would benefit the young people but, at best, it could never be much more than a gesture. There is a mention of Mary Fielder as a schoolmistress (wife of John Fielder, shoemaker) who may have been teaching at this school as she lived nearby.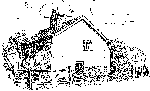 This cottage, known in the twentieth century as "Bricksmith's Cottage" was, in the early
nineteenth century, the "Subscription School" run according to "Dr Bell's Plan " (sketch
by author)
Much more significant was the foundation of the National School in 1842 37. This was established by the 'National Society for Promoting the Education of the Poor in the Principles of the Established Church throughout England and Wales' and being a national body could bring to bear considerable expertise and influence. The influence is first manifested in the gift of forest land as recorded on a stone plaque in the school:
This School, built by private subscriptions, with the aid of grants from the
Committee of Council on Education, the National Society and the Diocesan
Board at Winchester, was opened on the twelfth day of September, eighteen hundred and forty two. The site of the School, with the garden and other land, measuring in all 4a. 2r. 18p. was given by the Crown in the sixth year of the reign of Her Majesty Queen Victoria.
T.B. Lancaster, Minister of East Boldre.
The building cost [sterling]400 and comprised a single classroom, with the necessary offices, and a master's and mistress's house adjourning. This latter was enlarged at a later date to provide more accommodation for the headmaster's family.
It is very difficult to evaluate the impact schooling had on the inhabitants but taken with the strict discipline of the non-conformist faith there must certainly have emerged a more law-abiding and responsible community.
AGRICULTURE, INDUSTRY AND TRADE
Small scale farming was practised in East Boldre. The first clear picture emerges from the tithe record though, importantly because of its nature, the whole settlement was tithe free.
AND all those two hundred and eighty nine acres two roods and twenty-five perches of land called or known as Beaulieu Rails and heretofore part of the New Forest belonging to Her Majesty the Queen are by prescription or other lawful means exempt from the render of all tithes38.
The largest farm, at Hatchet, comprised only 221/2 acres and was owned and occupied by Charles Kearley. About 51/2 acres are recorded as arable and 11 acres as mead, the balance is made up with the mill, a cottage and their gardens, a piece called Chapel Ground, alongside the Methodist chapel in Massey's (Factory) Lane, and two pieces just described as 'Land'.
The second largest holding extended to only 16 acres owned by Elizabeth Fluder but occupied and fanned by John Hill. By far the biggest proportion, about 11 1/2 acres, was devoted to arable. This reflected a common feature of agriculture practised here in that little or no land on the farm needed to be set aside as pasture as the animals would graze on the open forest. For similar reasons very little was devoted to meadow to provide winter feed for, poor though it may be, a supply could be had from the forest.
All the other small holdings comprised only a few acres ranging from George
Langford's eight acres to several at around 2 acres.
Forty-eight holdings were merely cottages with their gardens all under one acre in area. There were, however, five 'Labourers' Allotments', totalling over 17 acres granted to the inhabitants by the crown, each sited on ditched and banked plots acid all lying to the west of the main north-south road from East End in the south to Cripplegate.
In 1859 eight individuals are recorded as farmers but by 1878 this number had been reduced to six 39.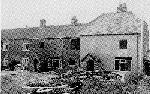 William Westbrook's rope, twine and sacking manufactory in Factory (now Massey's) Lane, during redevelopment in 1963. photo. Allen White 1963)
Probably the first industrial building in East Boldre was Hatchet Mill. This was a watermill powered by the dammed waters of Hatchet Pond. The mill being low lying was best served by an overshot wheel the tail waters eventually flowing to Sowley Pond. It seems that the dam was built around 1790 and the main direct road from Beaulieu to Lymington was constructed along the causeway. Iii 1801 the mill and fields were owned by Charles Kearley. When giving evidence to the New Forest Commissioners in that year a man called Woodford, then aged 86, stated that the land I was taken in' over ,sixty years ago by a certain John Sampson. This evidence places the date of the encroachment, if indeed it was such, as early as 1740. It is therefore understandable that the whole site was 'discharged' by the commissioners and became freehold.
Nearby was constructed, in 1816, a rope factory by William Westbrook, a Beaulieu ropemaker who had a works in that village 40. A terrace of four brick-built cottages was erected alongside the factory to house his permanent workers. Comyn in 1817 describes it on his map as 'Westbrook's Manufactory' and lists the occupiers of the cottages as James Gates, Widow Mullins, George Winkworth and Charles Winkworth, the latter described in Boldre baptismal registers as a 'twine spinner'. The factory continued to operate until about 1860 manufacturing rope, twine and sacking. The Tithe schedule of 1851 describes this little enclave, owned by William Westbrook, as occupying a total of nearly 151/2 acres. Plot 1942 (about I acre) contained the 'Factory Buildings and tenements', plot 1949 about 1/2 acre is described as a 'Tan Yard and Buildings', plot 1941 is 'Factory Field' extending to 51/2 acres and plot 1957 is a paddock of just under 11/2 acres. The final piece was an arable field of nearly 7 acres called 'Hatched Close'. Undoubtedly, some additional casual labour for the rope works was supplied by the cottagers living nearby. The 1859 trade directory notes James and F. Westbrook as I rope, twine, sacking &c., manufacturers' and Charles Winkworth, formerly an employee of the Westbrooks, as a 'twine &c. manufacturer'.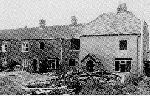 Rear View of the terrace of four brick-built cottages to house the employees of the rope factory. Photograph taken during refurbishment in 1963. (Allen White)
Henry Comyn in 1817 records only one shop in Beaulieu Rails owned by Michael Phillips but gives no clue as to the services it provided. Phillips was well-off owning over 16 acres with three cottages (later to be bought by Elizabeth Fluder). Three shoemakers are recorded but no other trade finds a mention. The parish registers give the occupation of tailor to William Harvey in 1813 and James Thomas is described as a publican in 1836 <41.p>
In the 1859 directory we find a tailor, a shoemaker, two blacksmiths, two grocers and two beerhouses. Two further shopkeepers are recorded in 1878, one is additionally a cooper and the other a carrier.
East Boldre looked increasingly to the market town of Lymington for its trade as the nineteenth century wore on though Beaulieu continued to play a prominent part by providing the postal services for the settlement and a money order office. By 1878 the carrier, George Wilkins, was making three regular journeys each week to Southampton.
By 1900, then established for over 60 years as a parish, the village had taken on its own distinctive and independent character reinforcing many facets of its origins as an informal settlement. On its centenary iii 1939, at the start of the Second World War, its population stood at about 900.
ACKNOWLEDGEMENTS
Like a vintage wine this short work has been maturing for many years (1 hope it is all the better for that). A number of people helped in my initial investigations amongst whom was the late Geoffrey Belasyse-Smith, chariman of the Boldre Parochial Church Council who allowed access to those parish documents in the church vestry. The late Elizabeth Perkins was generous in her support and in allowing access to her library. In the early 1960s Allen White of Christchurch spent time with me photographing buildings and features in the parish and several of his photographs enhance the present work. Anthony Pasmore helped in many ways with information on East Boldre and, particularly, in providing help and encouragement with the publication of this booklet. Several East Boldre residents, over many years, provided me with access to their properties and gave me information on the lives of their ancestors in the village. To all of them I owe a debt of gratitude.
Jude James,

Hordle.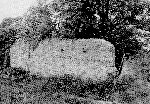 The cob walls of this ruined cottage, photographed in 1963 illustrate the durability of
cob as a building material. Originally this building was two adjoining cottages
occupied in the early nineteenth century by G. Crouch and James Harris and their
families. If became roofless during the Second World War and has now been swept
away.
The cottage occupied by the widow, Mary Payne, in 1817. Her husband, James, had
died as a result of a head injury sustained when he fell from a cart crossing a rivulet.
I The inquest learned that he was in a state of intoxication at the time. The cottage was
rented at 1s. a week from Mr Seagur of Beaulieu. Mary Payne lived here with her three
daughters, namely, Sarah (b. 16 March, 1811), Frances (b. 10 February, 1814) and
Anne (b. 23 January, 1816). The cottage way built on encroached land. It has since
been demolished. (Sketch by author)
1. hockey, S.F., King John's Abbey (Beaulieu 1976), 20, 205ff.).
2. (Gilpin, W., Forest Scenery (3rd edition 1808), 46-7. The idea of utilizing forest heathland for organized settlement had been discussed in detail by Daniel Defoe in the early 18th century, see Defoe, Tour Through the Whole Island of Great Britain (1724-6. Everyman edition 1962), 200-206.)
3. Boldre Poor House Book (in the Boldre vestry when transcribed now in the HRO).
4. Widnell, H.E., The Beaulieu Record (Beaulieu 1973), 167-8.
5. North, R., Discourse on the Poor (1753),
6. James, J., Comyn's New Forest (Newsome, Ringwood 1982), 30-49.
7. Quoted in Kerr, B, 'Dorset Cottages', Proceedings of the DNH&AS, Vol. 86, 189.
8. Lewis, P., The New Forest (1 811), 65.
9. Proceedings of the New Forest Commissioners, 24th Sept. 1801 (London 1853), 94-102, No. 10. Widnell, op. cit., 150. This book provides a detailed account of this dispute from the Beaulieu records, pages 149-158.
465(A).
11 . ibid., 155.
12. lie following were to be provided for by Beaulieu: No. 2 Pocock's house in Ravensbeck, No. 7 'Moms
Crouch, No. 9 James Jeffries, No. 12 Stephen Gregory, No. 16 Richard Gregory, No. 22 Benjamin Phillips,
No. 25 James Wheeler, No. 38 Widow Harding, No. 41 Edward Gregory, No. 42 George Snook, No. 45
Henry Etheridge, No. 46 William Rann, and No. 47 James Wort.
13. Boldre Poor Minute Book (from G. Belasyse-Smith's transcription).
9
14. James, op. cit., [BRN 201, 38.
15. Boldre Poor Rate Book 1801-07 (now lost).
16. 39 and 40, Geo. Ill c.86., An Act for the Better Preservation of the Timber in the New Forest and for
ascertaining the Boundaries.
17. From Procs. of the New Forest Commissioners, op. cit.
18. Salisbury and Winchester Journal, 29 June, 1829.
19. For fuller background detail see James, J.F., 'Vernacular Architecture in the New Forest: Domestic
Buildings in Cob', New Forest Report No. 16 (1978).
20. Gilpin, W., Remarks on Forest Scenery (1791), Vol. 2, 39.
21. For a discussion of this point see first the brief remarks in Pollock and Maitland, The History of English Law (2nd edition, Cambridge 1968) Vol. 2, 30, and for a fuller development, Megarry, R.E., A Manual of the Law of Real Property (2nd edition 1955), 555-7.
22. King, R., Handbook the Town of Lymington (1845), 68-9.
23. HRO. Quarter Sessions Calendars for 1816-17.
24. Gilpin, op. cit., 41.
25. Widnell, op. cit., 15
26. Minutes of the Vestry Meetings, Boldre Parish (G. Belasyse-Smith's transcription).
27. Willis, A.J., Hampshire Miscellany III: Dissenters' Meeting House Certificates 1702-1844 (Folkestone
1965), 248.
28. Acts of the Apostles, xvi, 14-15.
29. East Boldre Baptist Church Records: the Minute Book was kindly loaned to the author who made the
notes quoted.
30. James, Comyn, 3.
31. Copy of manuscript returns by the registrar, Henry Hapgood, and The Religious Census of Hampshire 1851, edited by J.A. Vickers (Hants Record Series, Vol. 12 (1993), 62-3.
32. All the stones have now been removed.
33. D. A. Douglass, The Story Lymington United Reformed Church(1983), 12.
34. 'The cost is given as [sterling]1,045 in the 1851 Religious census.
35. 'The letter is quoted in Pasmore, A., Verderers of the New Forest (Beaulieu 1977), 93-4, and the following text is from the same source, 94.
36. James, Comyn, 37, 41, 47n., and 68. Also Widnell, op. cit., 168,
37. This school closed in 1985 and the buildings converted into a private dwelling.
38. HRO. Boldre Tithe Apportionment dated 29 March, 1851, text from the preamble.
39. William White's Hampshire directories for 1859 and 1878.
40. Personal communication from H.E.R. Widnell, 27 May, 1968.
41. Boldre parish register, Vol. 10, 1813-40.