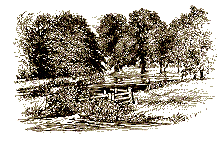 New Forest Background - Heathland
---
The New Forest heathlands and related grass-heaths and acid grasslands contain distinct plant and animal communities. Their distribution is related to soil structure, permeability and grazing. The slowly permeable or seasonally waterlogged soils, known as the humid heaths contain heather, cross-leaved heath and purple moor grass.
Wet heaths occur on downslope wetter sites and are dominated by bell heather and purple moor grass with deer grass, cotton grass, sundews.
The acid grasslands occur mainly on pockets of brown earth soils within the heathland matrix and though highly variable are mostly dominated by bristle bent, purple moor grass with bracken, gorse, birch, oak and rowan.