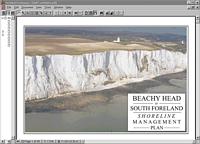 SMP Procedural Guidance
Defra's review of the Shoreline Management Planning process has emphasised the use of more prescriptive procedures, to engender a greater consistency of approach. As part of this study GeoData have undertaken the evaluation of data access protocols.
The first round of the SMPs created a large variety of outputs from a wide variety of input data, resulting in a series of plans that were not consistent. The review of SMPs offered the opportunity to promoter a more managed approach to data access and processing. GeoData, who had undertaken number of the first round SMPs, were asked by Halcrow to review the approaches to data and particularly GIS data management and access.