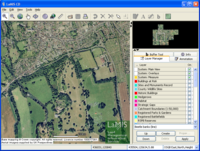 LaMIS Viewer screenshot
GIS » Spatial Data
GeoData is able to draw upon extensive spatial analysis expertise from both within the Institute itself and also from leading academics within the School of Geography, in order to solve complex spatial problems.

Our Team are especially interested in the creation and use of Decision Support Tools and MultiCriteria analysis for spatial planning.

Typically, this might involve creating a tailor-made application to address the spatial problem.
Project profiles