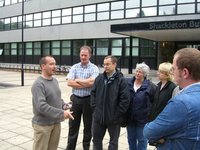 Mobile GIS Demonstration
GIS Training
GeoData offers professional GIS training as scheduled courses or tailored, bespoke training. Scheduled courses are hosted at the University of Southampton, Highfield campus. Bespoke training can be hosted either on-campus or at client premises.
Upcoming Courses
Regretfully, we have made the decision to cancel most forthcoming courses for March and April. If you were booked onto one of them, please be patient and wait until we contact you to arrange refunds/rebooking.
See full course listing for more details and future courses
By attending GeoData training courses you can earn CPD points towards the Chartered Geographer accreditation. All of our courses are validated under the Association for Geographic Information CPD scheme and the GIS Certification Institute GIS Professional (GISP) Award
Ongoing support is often as important as the initial training in ensuring the successful outcomes of formal courses. We are committed to making sure that the lessons learnt from our courses are consolidated and developed.
Please contact us on training@geodata.soton.ac.uk or call 02380 592719 to discuss your training requirements.
Project profiles