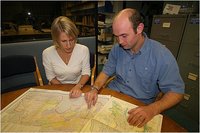 Project Support - archive maps
GIS Training » Support
Ongoing support is often as important as the initial training in ensuring the successful outcomes of formal courses. We are committed to making sure that the lessons learnt from our courses are consolidated and developed.
GeoData offers a flexible ongoing GIS support arrangement whereby you can call or email with specific questions. However,
unlike
most GIS support contracts, you are not limited to specific software packages but can also ask about other packages, data, procedures, policy, procurement etc.
In addition, we can also visit you to help you to solve your particular problem or if necessary, we can second a GIS professional to you for a longer period to address your requirements.
Please contact us at training@geodata.soton.ac.uk or call 023 8059 2719 for more information.