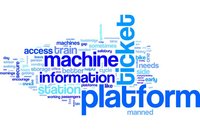 Data » Survey and Monitoring
Where there is a new data capture need we can assist with the design, resourcing and subsequent preparation and analysis of data.

Survey underpins many of our own broad-based research programmes from user surveys, socio-economic assessments to environmental impact and environmental research and monitoring programmes.

The range of services is broad: from proximate field survey to remote sensing technologies, interview and online questionnaire, data logging, real-time data feed and processing.
Project profiles