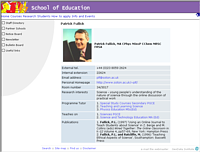 Web Development » Design
GeoData specialises in delivering standards-based, stylesheet-driven interactive websites.

Web design can be carried out in-house or in collaboration with external web and graphic designers, if required.

Industry standard, Open Source web technologies are combined with our in-house developed Content Management System. This enables complete separation of design, content and structure, allowing each to be managed and evolved independently of the others.
Project profiles