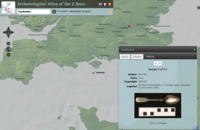 Web Development » Web GIS
Using Open Source technologies, GeoData are able to offer cost-effective development of web GIS applications.

Our in-house developed software modules bring together standards-based tools, including MapServer and PostGIS, to provide generic GIS tools which can be quickly customised to clients' exact requirements.

By deploying Open Source GIS and web development technologies, we are able to deliver high-performance applications with low hardware overheads, usually in a Linux environment. Software development and customisation is efficient and requires no software or licence costs.
Project profiles