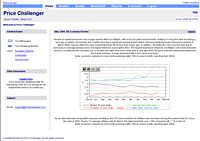 Web Development » Hosting + Facilities
GeoData host and administrate over 100 websites for our clients.

These range from the provision of simple web space, managed by clients themselves, to the management of large database-driven, interactive web applications, including GIS functionality.

Non-commercial sites can be hosted on our servers within the University of Southampton; or for commercial customers, we are able to offer facilities on our ISP-located servers.

We are able to offer e-commerce and other secure server based facilities and often manage applications for clients on their own or external ISP facilities.

We usually recommend Open Source technologies for our clients' websites, including Linux, Apache, PHP and MySQL. However, these technologies are generally heterogeneous and we are also able to deploy applications in a Windows server environment.
Project profiles