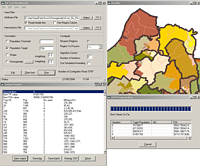 Web Development » Development
GeoData develop and manage a wide range of interactive and database-driven websites.

A variety of development platforms, languages and database systems are employed, though we place an emphasis on industry-standard, Open Source tools. Popular technologies include Linux, Apache, PHP, MySQL and PostgreSQL.

Many of our clients' websites make use of our in-house developed Content Management System, enabling separation of design, content and structure.

Our areas of speciality include online membership management systems, e-commerce, metadata databases and Computer Based Training and Assessment (CBA/CBT).
Project profiles