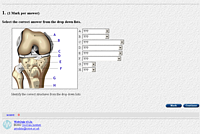 | | |
| --- | --- |
| Date: | 2002-2004 |
| Project: | uc0564 |
| Client: | Esporta (formerly Invicta Leisure) |
| Associates: | School of Health Professions, University of Southampton |
| Value: | £2000 |
WebQuizzes for Professional Development
For over 6 years GeoData have delivered formative and summative assessment applications online through our Quiz and WebQuiz applications.
The GeoData Quiz suite of applications have been used for revision, assessment and evaluation questionnaire response by students in numerous University departments and in external organisations for professional development.

GeoData worked with this large leisure group to deploy the WebQuiz as part of a career development programme for gym instructors. The applications were first hosted by GeoData through our ISP-based server facilities, then, as the project gained momentum, licenses, consultancy and support were provided to enable the system to run within the group's own Intranet.