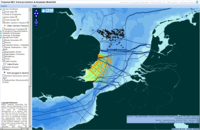 REC WebGIS
Users can visualise and browse geospatial datasets submited to the 4 Marine ALSF REC projects in their Data Interpretation and Analysis Phases.
The overarching objective of the 4 REC (Regional Environmental Characterisation) projects (South Coast, East Coast, Thames and Humber regions), commissioned by the DEFRA Marine ALSF programme, was to develop a broad understanding of the habitats and areas of archaeological interest present in the regions and to provide an insight into the processes that influence them.

A large number (many hundreds) of Geospatial datasets submitted as part of Data Interpretation and Analysis Phases are presented within a lightweight WebGIS for each REC project, allowing all users to browse and visualise data online, with links to the Marine ALSF Data Archive for raw data download.

The development makes use of open source MapServer and OpenLayers technologies with OGC standards for web mapping.