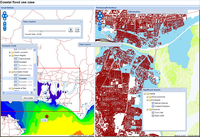 Date:
2008 - 2011
Project:
uc1052
Client:
European Commission (FP7)
Associates:
EU partners from UK, Spain, Greece
Value:
£284k
www.semsorgrid4env.eu
Semantic Sensor Grids for Rapid Application Development for Environmental Management
Semantic web technologies applied to environmental sensor networks
Sea level rise and potentially increased storminess are issues for concern for many parts of the world, not least the south coast of the UK. Waves, tides, storm surges and the uncertain outcomes of climate change make understanding the potential for coastal flood a planning imperative for the Solent region.

The GeoData Institute worked with research staff in the schools of Geography and Electronics and Computer Science (ECS), together with other UK and European Union partners on a 3 year EU-funded (FP7) project to apply semantic web technologies to environmental sensor networks. Potential end users will see the rapid development of innovative interfaces to assist decision support in flood management.

During the specification stages of the project, GeoData gathered initial user requirements and use case scenarios for Flood warning systems, assembling a regional Stakeholder group of interested partners.

These use cases formed the basis for developing lightweight "mashup" style web applications, built on high-level APIs exposing spatial data through semantic, open data concepts. Additionally, more sophisticated decision support flood applications were developed, also based on open source technologies and open geospatial standards. All software generated within the project has been made available through open source licences.