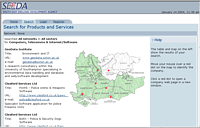 SEEDA Business Directory
GeoData worked as part of a consortium commissioned to develop the SEEDA Business-to-Business online membership database, implementing all web design, development and hosting components
Based on industry standard Linux and Apache web technologies, together with in-house developed PHP modules, the website provides many useful features for managing and presenting online communities.

The site interface is implemented using templates and stylesheets, allowing it to operate as an integrated 'portal', linked seamlessly from affiliated external websites and membership communities.

The search interface uses in-house developed spatial query modules, comprising automatic postcode to grid reference conversion and dynamic generation of location maps.