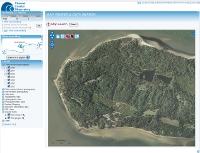 Channel Coastal Observatory
GeoData are responsible for all aspects of the CCO website, including spatial metadata database and search engine, web-based GIS interface to over 4TB of aerial photographs, Content Management System and real-time display of environmental data.
The Channel Coastal Observatory is the data management and regional coordination centre for the Southeast Regional Coastal Monitoring Programme. The programme provides a consistent regional approach to coastal process monitoring, providing information for development of strategic shoreline management plans, coastal defence strategies and operational management of coastal protection and flood defence.

The programme is managed on behalf of the Coastal Groups of the Southeast of England and is funded by DEFRA, in partnership with local Authorities of the southeast of England and the Environment Agency.