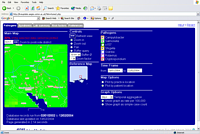 | | |
| --- | --- |
| Date: | 2002-2004 |
| Project: | uc0629 |
| Client: | Health Protection Agency, Southampton General Hospital |
| Value: | £18000 |
AEGISS - Gastrointestinal Infection Surveillance and Statistics
GeoData developed and host a complex web-based GIS interface for reporting and analysis of gastrointestinal symptoms in time and space, linked to patient risk factor analysis and microbiology results.
The overall aim of the project is to reduce the occurrence of gastrointestinal infection in the community by speeding up and improving the quality of information.

The project has been developed by a major collaboration between 5 Health Authorities, Primary Care (Local Medical Committees and the Wessex Primary Care research Network), Environmental Health Departments, Universities of Lancaster and Southampton and the Public Health Laboratory Service. It is sponsored by The Food Standards Agency and the Department of Health.