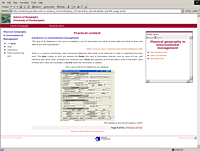 DIALOG-Plus - e-learning modules
Online river habitat management Undergraduate geography courses have been developed for the UK JISC programme.
Open Source web development and database technologies were combined with an in-house developed Content Management System to create online courses.

Course materials comprise tutorials, exercises, online library resources, student testing and marking and including student system authentication.