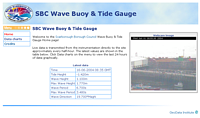 Date:
2004
Project:
uc0721
Client:
Scarborough Borough Council
Associates:
EMU Environmental
www.geodata.co.uk/sbc
Scarborough Wave Buoy & Tide Gauge website
Working with our associates, GeoData have developed a website to display graphs of near real-time wave and tide data.
The site combines Open Source web and database technologies with in-house developed data transfer and management modules to present live environmental data to the public.

The site is hosted using our ISP-based server facilities and also incorporates live webcam images.