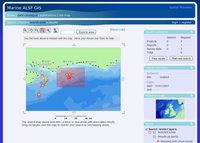 Marine ALSF GIS
The main aim of the DEFRA Marine ALSF programme is to promote environmentally friendly aggregate extraction in the marine environment in in English waters.
The Government imposed a levy (Aggregate Levy Sustainability Fund - ALSF) on all aggregate production to reflect the environmental cost of winning these materials. A proportion of the revenue generated was used to provide a source of funding for research aimed at minimising the effects of aggregate production.

Using open source geospatial database and webGIS technologies, GeoData developed and operates the data management for the ALSF programme, based on open standards for geospatial metadata, delivering and hosting a web based data archive centre for marine aggregate scientific research data and information.