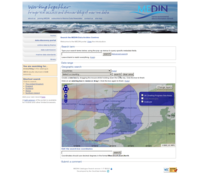 Medin Portal
The MEDIN portal is the official UK metadata discovery service providing users with a single point of access to a well-balanced, authoritative marine metadata catalogue.
The main sources of metadata are the network of MEDIN (Marine Environmental Data & Information Network) accredited Data Archiving Centres (DACs). These currently include geophysical and geological data from the British Geological Survey (BGS), oceanographic data from the British Oceanographic Data Centre (BODC), bathymetry data from the UK Hydrographic Office (UKHO) and habitat and species data from the Data Archive on Seabed Species and Habitats (DASSH).

Using open source tools for discovery through standardised vocabularies, filtering and presentation of geospatial metadata, GeoData developed and currently host the portal. Technologies and standards adopted include NodeJS, MapServer, OpenLayers, OpenSearch, SKOS (Simple Knowledge Organisation System).

The portal code is also available as an open source project, hosted through github and already used as the basis of other data discovery projects.