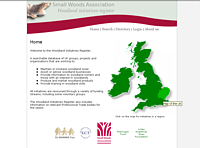 Small Woods Initiatives Register
GeoData have designed, developed and host an online database of Small Woods Initiatives.
The site uses Open Source web development and database technologies and allows users to carry out searches using spatial, keyword and area of activity criteria. Record holders are able to maintain their own records through the site.

Funding and sponsorship of the site has come from a number of sources, including DEFRA, Forestry Commission and The Countryside Agency.